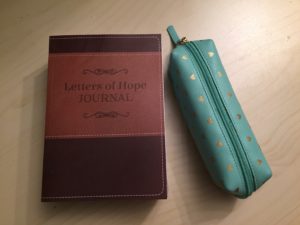 Hello there!
Hope your week is going well.
I'm thrilled to share with you another powerful resource from 'Letters of Hope'.
The Letters of Hope journal has been designed to help you…yes you
 'Keep Hope Alive', despite the challenge(s) you may be going through.
In my early years of grieving, I bottled up my emotions, I was angry, I was bitter, I was confused…I wished I had taken time out to write down my thoughts.  However, as I got older, I discovered journaling and it has been a great help for a number of years now.  It is a powerful tool  for dealing with overwhelm and also for gaining clarity.  I also use it as a form of communicating with God.
We all need a bit of encouragement every now and then and it's my pleasure to share with you some of my favourite verses in this exclusive 'Letters of Hope' journal.  Each page features either an uplifting note or an encouraging bible verse to meditate on.  You may not be able to verbally express your feelings but you'd be amazed by how your thoughts start to flow when you pick up a pen and a journal, so why don't you give it a try today.
The journal is available to order via the website. It is also ideal as a gift to friends and loved ones.  If you're looking for something simple and uplifting to give a loved one who is perhaps anxious about the festive season, due to a bereavement, this gift of  faith, hope and love will surely be appreciated.
God's blessings,
Ope xxx