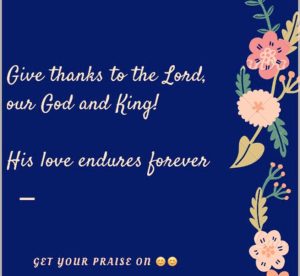 "What the Lord has done for me, I cannot tell it ALL"
Aside from saving and redeeming my soul, I am grateful for the countless blessings in my life, for His unmerited favour over my me, my immediate family and extended family.
God has been so good to me and I love to shout about it!
Having recently completed the #HallelujahChallenge – first I am thankful for the lady who drew my attention to this challenge, I was on a break from social media at the time but knew I couldn't miss this for anything – for my God has been too good to me and I also know that when praises go up, blessings will surely rain ☔️ down on us 🙏🙏
Thank you Father, for doors of opportunities that have started to open, for your supernatural provision, for your grace, for your joy that strengthens me, for anointing to fulfill Kingdom assignments.
I declare that I will do with ease what God has planned for me, including 'Letters of Hope' in Jesus name … 🙏 (Amen)
Whether you've been part of the #hallelujahchallenge or not, this week I encourage you to start with an attitude of gratitude – get your praise on.
Thank God for the blessings you see, Thank Him for prayers yet to be answered, Thank Him for He is Sovereign, Thank Him for ALL power belongs to Him in heaven and the earth.
Thank Him for the gift of life! Only the living can praise Him, infact in the past week, I know of two people who have completed their journey on earth. Whilst you're still here, praise Him!
If you struggle to get the words out of your mouth, I encourage you to:
Simply listen to Praise and Worship songs, Listen to Hymns and meditate on the lyrics. He will fill you up with strength and courage 
Write your praise down in a journal/notebook. (If you'd like a copy of LOH journal, visit our estore @ www.lettersofhope.org.uk)
Recognize and celebrate the free gifts all around you that bring you joy. We take so much for granted, for example – the glorious sunrises and sunsets. Just last week, I had been planning to wash my car (just the outside), but I had struggled to find the time amidst other balls I was juggling, when I woke up to find out it had rained and my car was looking much cleaner – I said a small prayer of thanksgiving.  Jot down these little things you're grateful for, one at a time on a piece of paper and store up in an empty jar. 
Still struggling….. say this out loud a few times …. "God is good, He has done me well, He will do me well. My soul – rise up and praise the Lord"
Do what you can to get your praise on this week!
#BeEncouraged