Hello there,
Hope you're having an amazing week and if not, I pray things turn around for your good.
I got an email recently from DaySpring, asking me to 'help others by sharing my experience'. What they meant was for me to write a review of my purchase, to help other potential customers with their decision making.
That email was a reminder of my promise to share stories of those who have experienced bereavement and how they are coping with their loss.  As I have mentioned in the past, you don't ever get over your loss, at least that's my personal experience after 20 years.  However, you find ways of coping with missing your loved ones.  One of such ways is by connecting with people on a similar journey, once you realize that you're not alone, that the pain and grief you experience is not unique to your situation, it makes each day a little easier.
One of my desires for this platform is to share not just my own experience, but the experience of many others who have lost people very dear to them.  This month, another friend of mine, Abiodun Deinkoru, has kindly offered to encourage others through her own 'Story of Hope'.
Happy Reading and #BeEncouraged!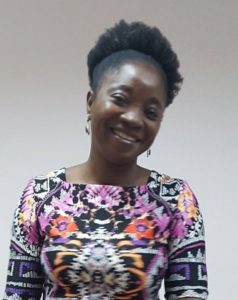 ♥ Please tell us about yourself, the person you lost, your relationship with them?
My name is Abiodun Deinkoru nee Olaboyin. I lost my dad about a month after I clocked 9 years. My father was a strict dad, a disciplinarian but very nice and deeply committed to his family both immediate and extended. As young as I was when he died, I could remember we were very close. He would help with my homework and made sure my needs were met .
♥ Describe how you felt in the early stages of grief and in subsequent weeks, months, perhaps years?
In the early stage, though I cried like others, I didn't quite understand what was going on. However, I became very sad and withdrawn in my teen years. I guess the sadness was because we lacked a lot. Life was difficult at home. The resources were scarce and my mum was just a hustler. I believe that death altered my personality also. I that was once very expressive became quiet . I think it became worse because I had to go live outside my comfort zone with my aunt and later my big cousin.
♥ What was your greatest or most helpful resource in getting through the tough days and/or nights?
May be things would have gotten worse if I wasn't introduced to Jesus .  Thank God for the comfort I experienced in him. My favourite verses then were in Psalm 68.
A father of the fatherless, a defender of widows, is God in His holy habitation. God sets the solitary in families; He brings out those who are bound into prosperity; But the rebellious dwell in a dry land.

O God, when You went out before Your people, When You marched through the wilderness, Selah You, O God, sent a plentiful rain, Whereby You confirmed Your inheritance, When it was weary.

Ps 68:5‭-‬7‭, ‬9 NKJV.
That Scripture comforted and encouraged me through the years
 ♥ Do you still have tough days/nights now and how do you get through these?
Hardly in recent times. I believe God has been good to me despite what happened. I used to wish my life was all a dream especially in my teens and I would just wake up to that time before my dad died. I don't wish for that anymore. I do not want to wake up to life when I was 9 years old.
♥ If you could leave an encouraging message for someone who has just recently lost a loved one, what would that be?
Trust in God. God makes a lot of difference. You may not understand why but trust God to bring beauty out of ashes. Time doesn't heal wounds but positive actions in the right directions do. Good support system. Faith in God.
If you'd like to support and encourage others by sharing your own Story of Hope, please send an email to hello@lettersofhope.org.uk and we'll follow-up within 48 hours.
Thank you