These gorgeous earrings were recreated from my mum's beautiful set of jewellery. My eldest sister came up with this amazing idea and she found someone in Lagos, Nigeria to help make us all something beautiful from my mum's old collections.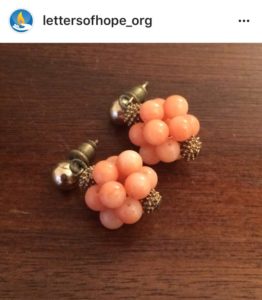 Every time I put these on, fond memories of my sweet mum come flooding back.
So recently, I've been doing some research on what can be done with personal items of loved ones who have died, here are some examples I found online (Click link for images Keeping Memories Alive )
Pillows made from Husband's swimming trunks

Memory bears made from shirts

 

Necktie treasures
These are merely suggestions, as I always say, do what you feel comfortable with and when you're ready to let go. Only YOU will know the appropriate time.
My mum died in Nigeria, and there was only so much of her stuff we could bring over. In fact to be honest, it took a few good years to go through all her personal items and decide what we wanted to keep, give away to other relatives who would cherish her things and of course some were given to charities..We've also kept some of my mum's items just as they are, no need to 'upcycle' .
The other day I was in one of my sisters house and I needed something to use as a baby carrier, she brought out this old 'wrapper' and I knew straightaway it was my mum's. I hadn't seen it in years and it brought back fond memories. I also have this headscarf I use occasionally, the first time my hubby saw it, he suggested getting a new one, I gave him the look of "this ain't going anywhere", until I explained that it had sentimental value.
So in summary, you can keep things as they are, recreate/upcycle as something else (blanket, jewellery, teddy bears, cushion covers, whatever you fancy). Do make sure you find a reliable vendor if recreating something new – so they don't end up ruining your loved one's items.
If you have other suggestions,  please feel free to leave a comment below